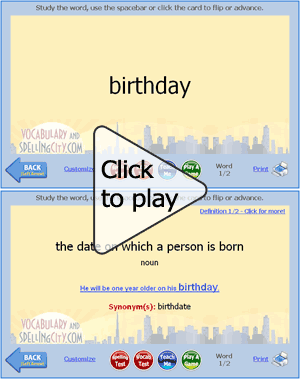 I've been looking for a
free online flashcard maker
for vocabulary and spelling words and I've found it! Eureka. A great tool that can be used for either online or printable flashcards. It's on VocabularySpellingCity.com.
I like that it comes with a vocabulary of over 50K words and can be used online, has audio, and can be printed.
And I quote:
Click on each flashcard or tap the spacebar to view the reverse side of the card. To customize your flashcards, click on the Customize link at the bottom of the card.
Choose which information (word, definition, sentence, part of speech, synonyms, or antonyms) you wish to display on the front side of the flashcards, and which information you wish to display on the flip side. Flashcards can be shown in alphabetical order, the order in which you entered the words, or in random order.
You can also print the flashcards in a variety of sizes by clicking on the print link at the bottom of the flashcards.